Take the sustainability of your e-bike to the next level with an ISOCO Advanced e-bike! Read on for more details or refer to the extensive write-up on Downtown Mag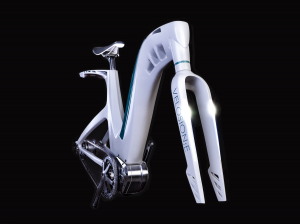 The greenest way to produce bikes in the world
ISOCO Advanced sets a new standard for sustainable bicycle manufacturing.  The new V-frame technology introduced by ISOCO Plastics GmbH reduces energy use in production by 50% compared to standard frame manufacturing processes, and results in a frame that is 100% recyclable at the end of its useful life, bringing the bike industry a big step further towards a circular economy.
When the useful life of your bike ends, another one is born from it.
We produce, you enjoy, we recycle
V-frames are high performance injection-moulded carbon composite bike frames. Designed, manufactured and built in Germany, reducing the number of transport movements required to put a bike together.
After the frames are produced at ISOCO Plastics, they are transported to the Ebike Advanced assembly facility in Germany where bikes are built from the ground up until they go in a box, fully assembled.
Visit ISOCObikes.com for more information about ISOCO Advanced bikes, and V-frames.com to learn more about the unique frame manufacturing technology.
Exclusively available in Australia through E-stralian.