So, you want to commute on an ebike in winter?
Here's our advice on staying warm and dry on your ebike while you beat the traffic.
We've heard a lot of people say:
"There's no such thing as bad weather, just wrong clothes!"
And the Dutch are found of telling their children; "You're not made of sugar. You won't melt!"
when they complain about going out in the rain.
It's possible to prepare properly for riding in the cold and rain so your ride is as comfortable as possible, and you arrive at your destination relatively warm and dry.
Bike Set-up
Mudguards
Perhaps the most important item on your bike is a set of full-size mudguards. Good mudguards will stop water and mud spraying all over you and your bike.
Lights & Visibility
Most quality ebikes have integrated lights that are powered by the bikes battery, so you don't have to think about it.
If your lights have a flashing function use it.
Even if your bike has integrated lights already you can always add more. Add one to your helmet or extra flashers to your handlebar and seatpost.
Reflective stickers on your bike, reflective clothes and bags offer extra visibility in low light and wet conditions when drivers tend to have their headlights on.
Tyres
Making sure tyres are inflated properly with a good amount of tread left on them for grip. Properly inflated tyres will also last longer!
What to Wear in the Cold
The secret to staying warm while riding a bike is to stay dry. While this sounds like a relatively easy thing to do you can work up a sweat, particularly if you're wearing lots of warm layers.
Dress down a little bit when you first set off. Start off a little cool and warm up along the way.
Layers are your friend, try a few combinations to see what works best for you. Avoid cotton as a base layer – cotton t-shirts and singlets hold moisture against your skin. Use merino or poly-based thermals that wick moisture away from the body and dry out quickly.
A few warm extras can make all the difference:
A warm and windproof pair of gloves or mittens are essential.
A light scarf, a snood, or a thin beanie under your helmet.
Wear good quality winter socks (merino or bamboo socks are excellent).
Warm boots or shoes. Gore-tex equipped shoes can help with waterproofing.
After a few rides in the cold, you will quickly work out the best solution for your body and riding conditions and you'll easily be able to dress accordingly for each ride. No sweat.
What to Wear in the Rain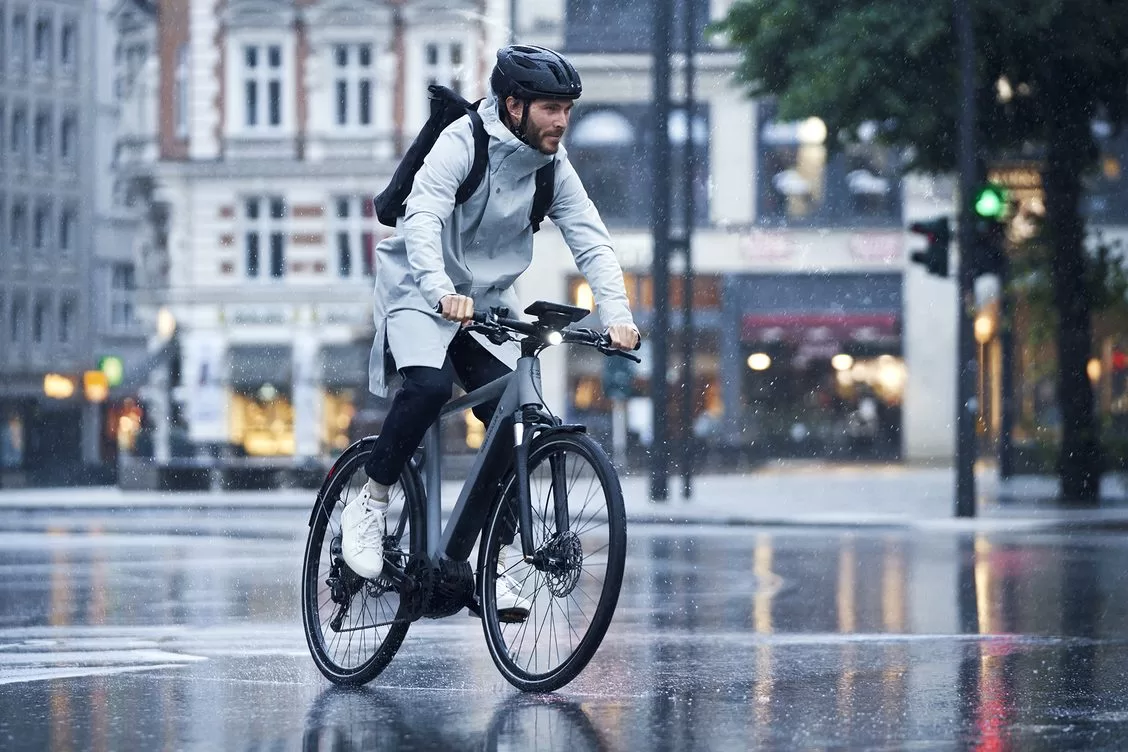 Rain gear comes down to personal preference. The staff at Sparque all have different approaches. Some things to try:
Find a loose-fitting raincoat that can work with your layers.
Try waterproof pants or bicycle rain chaps, that strap over your upper legs.
Open all the ventilation panels on your rain gear. Sweat is not your friend here.
Wear a cycling cape/poncho instead of a raincoat. These have more ventilation and will also keep you remarkably dry.
Get out there and give it a go!